About MPPC -- Memoriam to Members -- Steve Pavlina
Steve Pavlina (1921-2002), MPPC #2
Steve was born July 3, 1921 in Ekastown (near Sarver, PA). Ekastown is a "blink and you'll miss it" town. Actually, he was born July 2nd but the midwife didn't stop until the 3rd which was listed as his official birthday.
Steve started collecting stamps at age six, the same time his family moved to New Kensington. He served in World War II where he attempted to keep up his philatelic pursuits as much as possible. After the war, Steve worked at the Steel City Furnace company in Springdale, PA. A machinist by trade, Steve later worked at Carnegie Mellon University where he machined parts used for the Robotics research department to build some of the first robots.
Steve started collecting precancelled postal cards and MPPs back in the late 1940s. He had his own MPP from Cheswick. Steve learned from other precancelled card and MPP collectors like J. Garland Marks and Frank Penar. In fact, it was Frank Penar (also an amateur printer) who got Steve interested in amateur printing.
Steve had a small 5 by 8 inch Kelsey hand operated printing press. He bought the press in 1951 as a kit and assembled it himself. Steve got a set of Old English type from Frank Penar. He used that printing press for his MPPs and many other things. Steve loved printing. He was an amateur printer on the side.
Steve also owned the printing cuts and rubber stamps for the MPPs used by Frank Penar. Before Frank Penar passed away, he gave them to Steve. Steve gave those MPP cancels to Scott Shaulis before he passed away.
Steve was a pack rat. He collected for fun. He collected everything. Postal history, US stamps, foreign stamps, covers, precancels, Cinderellas. You name it, Steve had a collection of it somewhere.
Steve never collected for profit. He once found a $5 bill when he was much younger. He had a chance to buy a set of US Graf Zeppelin airmails for below face value. Instead, he bought a "Golden Galleon" mixture of used stamps. Steve figured that mixture is as worthless today as it was when he purchased it. "I had a lot more fun with that mixture though," he said.
Steve also kept his old correspondence with other collectors. They'd write about stamps or precancelled cards. Steve's collection of correspondence reads like the "Who's Who in Precancelled Cards and MPPs." He knew them all.
Steve was the Dean of Dean's in precancelled cards and MPPs for a number of reasons. He collected this material when almost no one else was interested in them. He wrote extensively about this material – both in his own publications (in particular, "Our Precancelled Cards") and for other philatelic publications. He studied them inside and out. He was always quick to share his information (and love of the hobby in general) with others.
Steve was member #2 and co-founder of the club. Steve worked closely with John Howell, Jim Eakins, Larry Page, Bob Johnston and others to bring MPPC into being.
Steve didn't take a prominent role in starting up MPPC. When asked why, his reply was,. "I was collecting MPPs for a long time. After the demise of the Precancelled Envelope Collectors Club (a forerunner to MPPC), John Howell came along with a lot more energy than I had at the time. I was still recovering from my first open heart surgery just a few years before that. I liked the old stuff and couldn't keep up with the flood of new MPPs coming out. I was quite happy to see a new face come along and decided to let John take over from there. I never regretted that decision."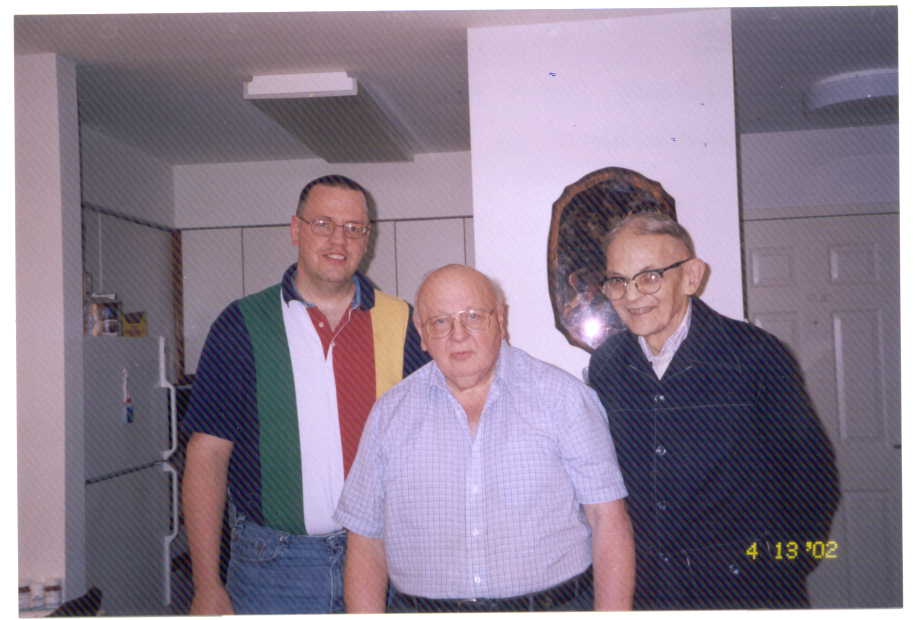 Left to Right: Scott Shaulis, David Johnson, and Steve Pavlina