About MPPC -- Memoriam to Members -- John Howell
John M. Howell (1910-1990), MPPC #1
John Howell, founder of MPPC, was born 1910 in Lancaster, PA of Pennsylvania Dutch parents. While still a boy, John and his mother moved to Los Angeles. As a student, John was interested in math and science and he majored in math while a student at UCLA.
After graduating from college, John went to work for Northrup Aviation, a builder of military aircraft. He was a pioneer in the application of statistical methods to manufacturing, a field known as quality control. John was a key member of the Northrup team that designed and built several highly secret aircraft, specifically the Black Widow (which was a very advanced fighter plane designed for nighttime action) and the Flying Wing. Because of John's position as the Northrup quality control expert, he was exempted from service in World War II.
In 1945, John switched from defense work to teaching. He became a professor of statistics at what became Los Angeles Community College. He remained there until his retirement in 1970. During this period, John wrote a widely used statistics textbook and was active in national quality control organizations.
Immediately after retiring, John and his wife Ethel moved from urban Los Angeles to a rural area in the Antelope Valley, about 50 miles north of the Los Angeles Basin. Their new home was located in the high desert, known as Juniper Hills, at an elevation of 4500 feet overlooking the Antelope Valley. The nearest settlement, where John and Ethel shopped, and where their post office was located, was Littlerock (population 1500 at that time).
From his boyhood, John had been interested in stamps. He started collecting in the early 1920s, and upon retirement, he was able to devote many hours a day to buying and selling, reading the stamp press, communicating with stamp friends, and looking through his huge collection. John's greatest joy came from the friendships he developed via clubs such as the Mailer's Postmark Permit Club. John obtained MPP #1 from Littlerock on April 4, 1978. He obtained MPPs from other nearby hamlets like Llano and Pearblossom.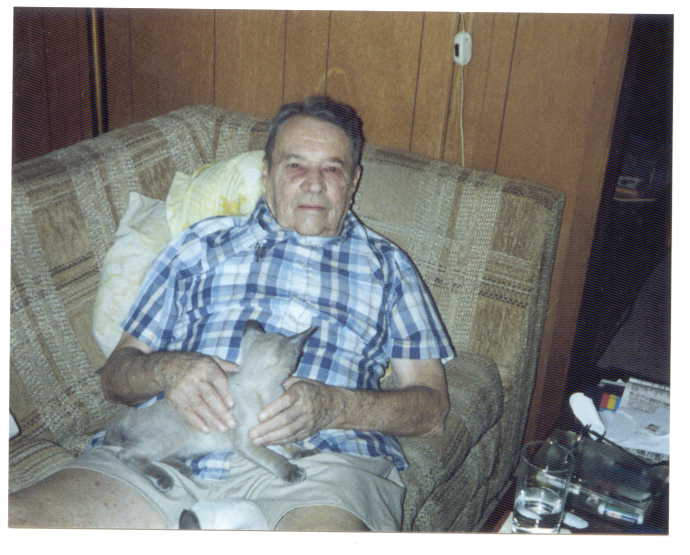 John Howell (1989)
Ethel Howell (1911- 2002), MPPC #68
Ethel Howell was born in what was then the untamed Arizona Territory in 1911. (Arizona became a state when Ethel was two). Her family reflected the frontier spirit of Old Arizona. Her uncle was Sheriff of Prescott, and while a child Ethel lived in Tombstone and other Wild West Arizona towns. Ethel's only brother, Lloyd, carried on the frontier spirit by becoming a career soldier, and was an officer of the famous World War II guerilla unit "Merrill's Marauders." Ethel's mother Grace, in her 50's, lied about her age so she could enlist in the United States Army.
While still a schoolgirl, Ethel's family moved from Arizona to Huntington Beach, CA. Her high school days were in the Roaring 20s and she made the most of it, partying and enjoying herself. After high school, she married a handsome young journalist, Bill Glenn, who was sports editor of the San Diego Union newspaper. In those days of Prohibition, San Diego was a lively town because of its proximity to Tijuana, where liquor could be purchased legally. It was during this time that Ethel developed her love of ballet, attending many dance events. She herself was an expert ballroom dancer.
Unfortunately, Ethel's marriage to Bill ended not long after their son Gary was born in 1937. Ethel tried to work as a teacher, but found strong discrimination against divorced women. The only job she could get was as an elementary school teacher in Needles, one of California's hottest and most remote settlements (in the Mojave Desert, near the Arizona border). In those days before air conditioning, classroom temperatures sometimes reached 120 degrees.
Ethel was rescued from Needles by her second husband, John Howell. John was an engineer and mathematician who had been exempted from World War II military service because he was working on a supersecret aircraft called the Flying Wing. Ethel and John were married in 1943 and settled in Los Angeles where they lived for 25 years. Ethel and John were an active pair, traveling all over the West, camping, looking for gem stones, and exploring. They also visited Europe, Asia, Africa, and the South Pacific. In 1970 they retired to the Juniper Hills section of the Antelope Valley, north of Los Angeles.
Ethel loved cats, activities, mealtimes, and visits from her son. She hated baths and showers.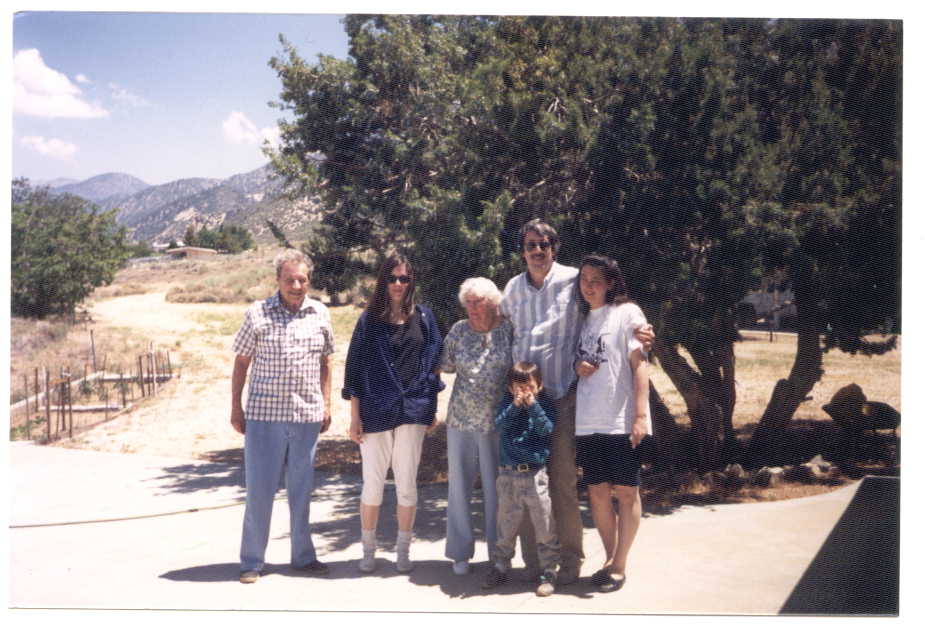 Left to Right: John Howell, Sara Glenn, Ethel Howell, Patrick Glenn, Gary Glenn, and Antonia Glenn (1989)